After Caporetto: William Barker & the Italian Expeditionary Force
---
In October 1917, the Italian front collapsed at Caporetto, leaving Italy's continued participation in the war and, possibly, her sovereignty, in doubt. Germany had at last intervened on her southern ally's behalf. Faced with the vertigious terrain and all but impregnable fortifications of the eastern Italian Alps, the German commanders recognized that new tactics would be essential if victory was to be achieved with the still limited resources available to the Central Powers on the Adriatic front. German answer to the deadlock in the Dolomites was a new style of warfare that broke with all recent European tactical dpoctrine: infiltration tactics. Special, elite units called storm troops slipped forward behind a much abbreviated artillery, barrage containing a high percentage of gas. They would overrun forward defenses while the enemy was still sheltering from the expected bombardment. Then, as resistance stiffened, they bypassed strong points to attack disorganized units and rear areas. To maximize shock effect, these units were provided with the heaviest and handiest fire power available: portable light machine guns (Lewis, Parabellum, lightened Maxim, or Madsen), extra grenades, and pistols replaced many of the rifles normally carried by German infantry. (Infiltration tactics proved so decisive that they radically transformed German strategic thinking on the Western Front in 1918 and produced Germany's last great victory. Interestingly they also formed the basis of the tactical thinking of an obscure, junior infantry officer who seized a small but critical and all but impregnable Italian mountain top-- one Irwin Rommel).
The Allies responded quickly, for once, and sent reinforcements. Many of these were air units. Some of the first US Army airmen were sent to Italy's aid under the command of Fiorello LaGuardia, the famous mayor of New York. France also sent a number of squadrons. Britain's contribution included 51 Wing, RFC, and William Barker.
Barker was a machine gunner in a Canadian cavalry unit when the war started, In 1915, he transferred to the RFC to get out of the trenches. Then Corporal Barker served as an observer/ airgunner, initially on BE2s. He was a good shot, scored two kills, and survived at a time at a time when few RFC two-seater crews did. He was promoted to 2nd Lieutenant in 1916. In 1917 he earned his pilot's license and returned to the front to fly two-seaters yet again. His score now stood at four. So, after a stint as an instructor in England, he sought a transfer into a fighter squadron. In September 1917 he joined 28 Sqdn, a new unit forming on Sopwith Camels. The squadron went to France in October 1917, and took up residence at Droglandt. Barker's piloting skills were apparently not all they might have been. He seems to suffered more than his share of flying accidents during his career. But he made up for this deficiency with aggressiveness in action and accurate shooting. On 18 October Barker downed an Albatros D.III during an attack on Rumbeke aerodrome and gained ace status. On 22 October 1917, he downed two more Albatros D.IIIs or D.Vs.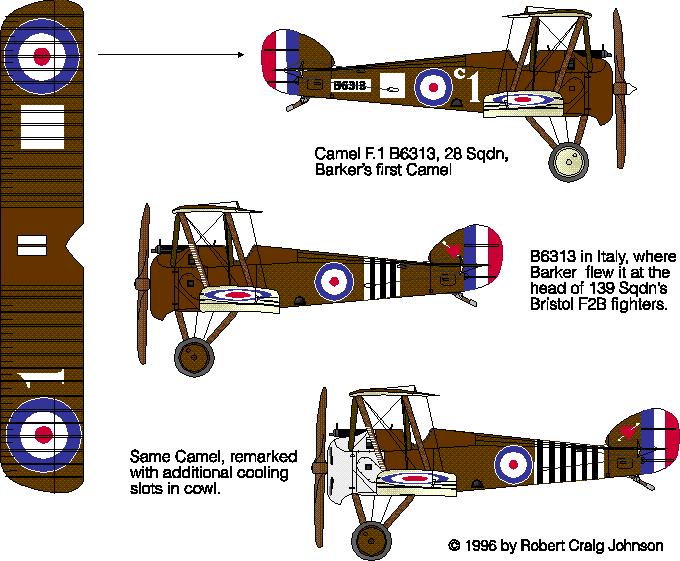 But Barker's reputation was to be made in Italy, not in France. 28 Sqdn was rushed south in the immediate aftermath of the Caporetto disaster and went straight into action. On 29 November he downed an Austrian Albatros D.III (Oef) flown by Rittmeister von Hideghet of Flik (Fliegerkompagnie) 24 near Sernaglia. By the end of January, he had added two D.IIIs, two observations balloons, and two shared balloons to the tally that he was already keeping on the interplane struts of his personal Camel, B6313. Two balloons, two Albatros scouts, one flown by of Feldwebel Semelock of Flik 51J, and a pair of two-seaters fell to Barker's guns in February. He was awarded the DSO. In March he claimed three more Albatros and a balloon.
Barker expected to succeed to the command of No. 28, but was passed over. He applied for a transfer to France, but was instead sent to another Camel unit on the Italian front, 66 Sqdn. He now had the use of a second Camel, B6415. He had crashed B6313 at Asola in a landing accident, tearing off the undercarriage and flipping the airplane onto its back, and it took some time before it was repaired. On 17 April he shot down Oberleutnant Gassner-Norden of Flik 41J, flying Albatros D.III (Oef) 153.152, over Vittorio. Barker received a second bar to his MC. He went on to destroy fifteen more hostile machines with B6313, including five D.IIIs, two Berg scouts, and a number of two seaters.
Barker was now promoted to Major and sent to command 139 Sqdn, a newly formed Bristol F2B Fighter unit. No. 139 had started as the F2B-equipped Z Flight of a composite squadron. But the Brisfit soon proved well suited to the conditions prevailing in Italy. The RFC decided to form a number of new F2B squadrons for both fighter and reconaissance duties. No. 139 was the first.

Command of a Brisfit squadron did not induce Barker to give up his favorite fighter, however. He preferred Camels and was thus allowed to keep B6313 for his own use. He added a two-seater and four or five Alabatros fighters to his score at this time and got his first sight of an enemy pilot bailing out with a parachute. On June 15, the Austrian's launched their war-winning offensive only to be stopped and routed at the Piave. As part of the preparations for the inevitable allied counterattack, Barker was asked to assist with a joint Anglo-Italian intelligence operation. He was to fly a twin-engined Italian SP4 aircraft that had been specially modified for agent-dropping. After several false starts due to poor weather, the agent, Alessandro Tandura, was successfully dropped on 9 August. Barker flew on to bomb various Austrian targets in order to hide the reason for the overflight. Barker also chauffeured Edward Prince of Wales about in a Bristol Fighter during the prince's several visits to 139 Sqdn.
Inevitably, on such a narrow front, the Bristol fighters of Z Flight and 139 Sqdn faced some of the best pilots in the Austrian air service. On 10 May, Z Flight's C4755, flown by Lts J.B. Guthrie and H.Y. Thornton, fell to the guns of Frank Linke-Crawford, the Anglo-Austrian ace, flying an Aviatik-Berg D.I. Friedrich Navratil of Flik 3J achieved ace status by shooting down Bristol Fighter C4759 over Matarello, Pilot Lt. W. L. Vorster and observer Sgt. H. T. Frow being killed. In August 1918 he shot down 139 Sqdn's D8069 and D7966. Lt. C.R.H. Jackson and his observer Lt. W. Keepin were killed in the first aircraft. Lt. C.E. Gill and Lt. T. Newey were captured unhurt. Another Bristol fell to Navratil and Stefan Stec shortly thereafter.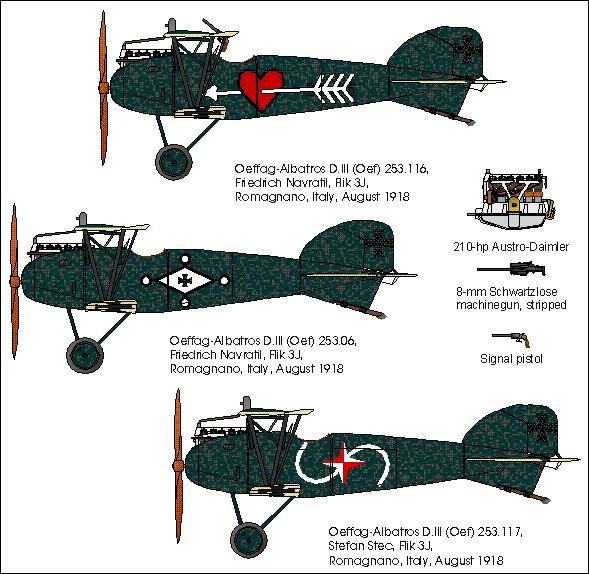 At the end of September 1918, Barker was posted back to England and B6313 was sent to No. 7 Aircraft Park for dismantling. Barker ended his Italian campaign with 33 airplanes confirmed destroyed and nine observation balloons downed individually or in cooperation with other pilots.
Like most of the great aces, Barker was continually tinkering with his favorite Camel, B6313, in order to improve its combat performance. The Clerget rotary engine's cooling was marginal in the warmer Italian climate, so it soon acquired an array of supplementary cooling slots cut into the cowling around the central opening. All Camel's (like most Sopwith's of all types) suffered from poor upward visibility. Barker, like many others, dealt with this by cutting away progressively larger portions of the center- section fabric. He also had the standard gun sights replaced by a rifle-type, notch-and-bead arrangement of his own devising.
Both Barker's Camels and the F2Bs carried 139 Sqdn's famous black-and-white stripes around their rear fuselages. At first there were only two. But these quickly grew to fifteen or more. Barker supplemented this with personal insignia of the type frowned on in France: a red heart pierced by an arrow, the victory tallies marked in white on the front interplane strut on each side, a sheet-metal red devil thumbing its nose. This last item was attached to the muzzle of one of Barker's Vickers guns. He later fitted it to the Sopwith Snipe in which he won his Victoria Cross over France.
For photos and additional information on Maj. Barker, see:
Canadian Aces Home Page,
Canadian Military Aviation Picture Archives.
---
---
© 1996 by Robert Craig Johnson. Part of a series first published in Eagle Droppings, the Newsletter of the Rocky Mountain Chapter, IPMS/USA.