Book Review: New Windsock Datafiles
---
Given the number of volumes already published in this series and the fact that each is focused on a single aircraft type, these first three volumes for 1996 understandibly cover machines that have received little previous attention in print. All three books utilize the well-established format used in this series including numerous photos, a center spread of well drawn plans in both 1:72 and 1:48 scales, and color artwork on the covers. Each volume is £7.50 (about $11.60), although prices in U.S. shops may run higher given the limited distribution of these publications
---
P.M. Grosz. Brandenburg W29. Windsock Datafile #55 (Albatros Productions, Ltd., 1996) 32 pp, illus B/W color paintings, line drawings, 8.25 x 11.5 in. £7.50 (ca. $11.60).
---
Datafile #55 covers the Brandenburg W.29 floatplane fighter. This aircraft entered service with German Naval aviation only a few months before the Armistice and quickly proved itself to be a very effective weapon against British air and surface forces in the North Sea. The clean design of this monoplane gave it a significant advantage in speed over all of its aerial opponents. Given that the aircraft appeared so late in the war, it is somewhat surprising that it is not better documented in photographs.
The photo selection in this Datafile documents several individual machines with multiple views from different perspectives. The beaching equipment shown in these photos could provide information for some interesting diorama or displays. The Datafile only contains 50 photographs over 32 pages, making this volume 4 pages shorter than others which have appeared before or since in this series. But the images are clear and, when combined with the excellent plans, provide a useful resource for modeling.
---
J.M. Bruce. Vickers FB5. Windsock Datafile #56 (Albatros Productions, Ltd., 1996) 36 pp, illus B/W, color paintings, line drawings, 8.25 x 11.5 in. £7.50 (ca. $11.60).
---
The Vickers FB5 (Fighting Biplane No.5), also known as the "Gun Bus", equipped the first fighter squadron in any air service to use a single type of aircraft. This ungainly pusher was armed with a Vickers 0.303 machine gun and carried a two man crew. While the aircraft performed poorly and lacked aerodynamic refinement, it did represent the Royal Flying Corps' determination to put a number of well armed machines into service early in the war.
In this reviewer's opinion, this is the best volume to appear in the Datafile series to date. Many previous volumes have emphasized photos, plans and color content, placing less emphasis on development history. Author Bruce provides a detailed description of Gun Bus development from pre-war development to its use in action in the early days of the conflict. This is easily the most extensive text to appear in this series to date. But illustrations are hardly lacking. The volume features 79 photographs in 36 pages, many of high quality. The color section is rather brief given the plain finish found on nearly all of thes machines.
---
P.M. Grosz. Albatros C.I. Windsock Datafile #57 (Albatros Productions, Ltd., 1996) 36 pp, illus B/W color paintings, line drawings, 8.25 x 11.5 in. £7.50 (ca. $11.60).
---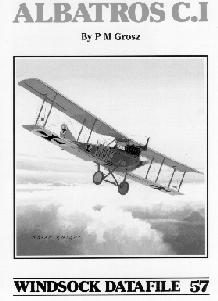 Interestingly, the next volume from Albatros Productions, Datafile #57, covers the Gun Bus' German counterpart, the Albatros C-I. Together, these two aircraft represent the first machines in the First World War designed for carrying armament. The German air service made only limited use of pusher aircraft. Instead it relied on faster, tractor biplanes. The Albatros C-I was designed with a swiveling gun ring in the rear cockpit, and few carried forward-firing, pilot-operated weapons. The pilot was supposed to position the aircraft so that the observer could bring his weapon to bear. The Albatros C-I had a lengthy career. Once it had been superceeded in front line service by improved designs as the war progressed, it was relegated to use as a training machine. It performed this secondary role so well that production of the type was resumed in 1917, follwing a two year hiatus, strictly to provide machines for training units. This made it one of the few designs to see nearly continuous service through all of World War I.
This volume features 92 photographs in 36 pages, with color and plans pages. The photographic coverage is excellent, due, no doubt, to the long service life of the Albatros. But, regretably, the text in this Datafile is skimpy compared to the wealth of other material that is provided.
---
These new Datafiles are welcome additions to any World War 1 library. On the whole, they are well produced, with high quality printing. They are, moreover, the most readily accessible references on each of these aircraft. Recommended.
---
---
© 1996 by Charles Hart. First published in Eagle Droppings, the Newsletter of the Rocky Mountain Chapter, IPMS/USA.