Field Marshall Archibald Percival Viscount Wavell of Cyrenaica and Winchester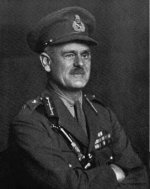 Archibald Wavell was born on the 5th of May, 1883 in Colchester, England. His childhood was unremarkable and he early on decided to become a soldier. Serving in minor positions during the World War 1, he was recognized as a superb trainer of troops. Rising through the ranks he became British commander in chief for the Middle East in 1939. He enjoyed early success against the numerically superior Italian Army in North Africa capturing or destroying nearly the entire force and pushing west across the desert in December 1940- February 1941. Although he was ordered to part with over 60,000 of his best troops, who were sent to Greece and Crete to try and contain the German invasion of the Balkans, he undertook a successful campaign against the Italians in East Africa, January - May 1941. Wavell, however, proved to be no match for the weak German forces under the masterful direction of General Rommel and he was removed in July 1941. Moving to Southeast Asia as commander in chief, he was responsible for the loss of Malaya and the fortress city of Singapore in December through February 1942, and Burma by May 1942. Replaced in June of 1943, Wavell was promoted on the strength of his early victories to field marshal and raised to the peerage as Viscount Wavell of Cyrenaica and Winchester and appointed Viceroy of India, a position he held until 1947. He died in London in 1950.
Wavell was a competant officer when facing an unimaginative enemy but was unable to contain such original military thinkers as Rommel in Africa and Yamashita, the "Tiger of Malaya".