General Philippe Francois Marie LeClerc de Hautecloque
Timeline
| | |
| --- | --- |
| 1902, November 22th | Born on family estate near Amiens, Picardy, France |
| 1947, November 28th | Killed in a plane crash at Colomb-Bechar, Algeria |
Narrative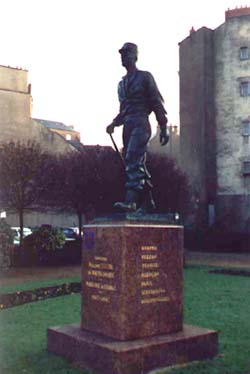 General de Hautecloque entered St. Cyr 1922 after which he was commissioned as a cavalry officer. Between the world wars he gained combat experience fighting tribal rebellions in Morocco.
He began WWII as a captain in the 4th Division which saw its first action on May 10, 1940 when it moved into Belgium to counter the German advance. The division was one of several driven back to Lille and encircled by the Germans at the end of the month. De Hautecloque was granted permission to make his way through the enemy lines and joined an armored division under General Buisson. The captain was seriously wounded on June 15th during a skirmish on the River Aube and was evacuated to hospital in Tonnerre. He was successful in evading capture after the armistice and reached Paris on June 25th at which time he received the news of General DeGaulleís call for resistance. Captain de Hautecloque joined his wife and six children near Bordeaux for brief visit before beginning a three week journey to London via Spain and Portugal on July 3rd. It then that he adopted the nom de guerre of Jacques Philippe LeClerc in order to protect his family from German or Vichy reprisals.
Upon reporting to DeGaulle he was immediately dispatched to Africa with a small group of officers tasked with bringing Equatorial Africa and Cameroons into the Free French camp. The mission was a success and in November LeClerc was appointed military commander of Chad. LeClercís troops marched into the neighboring Italian colony of Libya in January 1941. The campaign ended with the capture of the oasis of Koufra two months later. The captain was promoted to General de Brigade in August.
LeClercís march from Chad to the Rhine began on Dec. 16, 1942. His ragtag army consisted of slightly more than 3000 troops: Le Regiment de Tirailleurs Senegalais du Tchad, an African camel corps, a small French armored unit, a few British officers and a squadron of pilots from Brittany flying a dozen old planes. LeClercís force quickly crushed the Italian defense in southern Libya and marched 1500 miles north reaching Tripoli on Jan. 23, 1943 just as the British arrived from Eygpt. LeClerc placed himself under the command of Field Marshal Montgomery and his corps played a major role in the advance of the 8th Army on Tunisia. He was promoted to General de Division on May 5, 1943 and ordered to Morocco to form the 2eme Division Blindee (2nd Armored Division).
The 2eme DB was assigned to Pattonís American 3rd Army and landed in Normandy on Aug. 1, 1944. The unit saw its first action in the effort to close the Falaise pocket and liberated Argentan on Aug. 12th. News reaching Allied headquarters of the Paris insurrection and General von Choltitzís orders from Hilter to destroy the city in advance of a withdrawal precipitated a political crisis in the Allied camp. Finally after meetings between DeGaulle and Eisenhower, LeClerc was given a command to proceed with the liberation of Paris. The 2eme DB began its 100 mile drive towards the city on Aug. 23rd under orders from DeGaulle to, "go quickly, we must not have another commune." The next day the phone rang in the de Hautecloque family apartment in Paris. "Hello father this is Philippe. Iíll be calling on you soon and thought you might like to know." The Generalís startled father hadnít heard or dared mention his sonís name for four years asked where he was. "Iím just beyond Fontainbleau. I expect it will take me a couple of days to get to Paris but you can expect me then." That evening a gap was found in the German lines and at 9:22 p.m. Captain Raymond Dionneís tank, "Romilly" and two other Shermans pulled up in front of the Paris City Hall. The main body of the 2eme DB entered the city the next morning and that afternoon LeClerc accepted General von Choltitz surrender. The 2eme DB was later given the honor of being the first unit to enter Strasbourg on Nov. 23, 1944 keeping a promise many of its men had first made at Koufra 3 years and thousands of miles before. The 2eme DB finished the war in an advance on Berchtesgaden that ended May 4, 1945.
LeClerc left France on Aug. 18, 1945 as Commander in Chief of French Forces in the Far East but by the time he reached Indochina his only action was to accept the Japanese surrender. LeClerc was killed in a plane crash at Colomb-Bechar, Algeria on Nov. 28, 1947. He was made Marshal of France, posthumously, on Aug. 23, 1952.